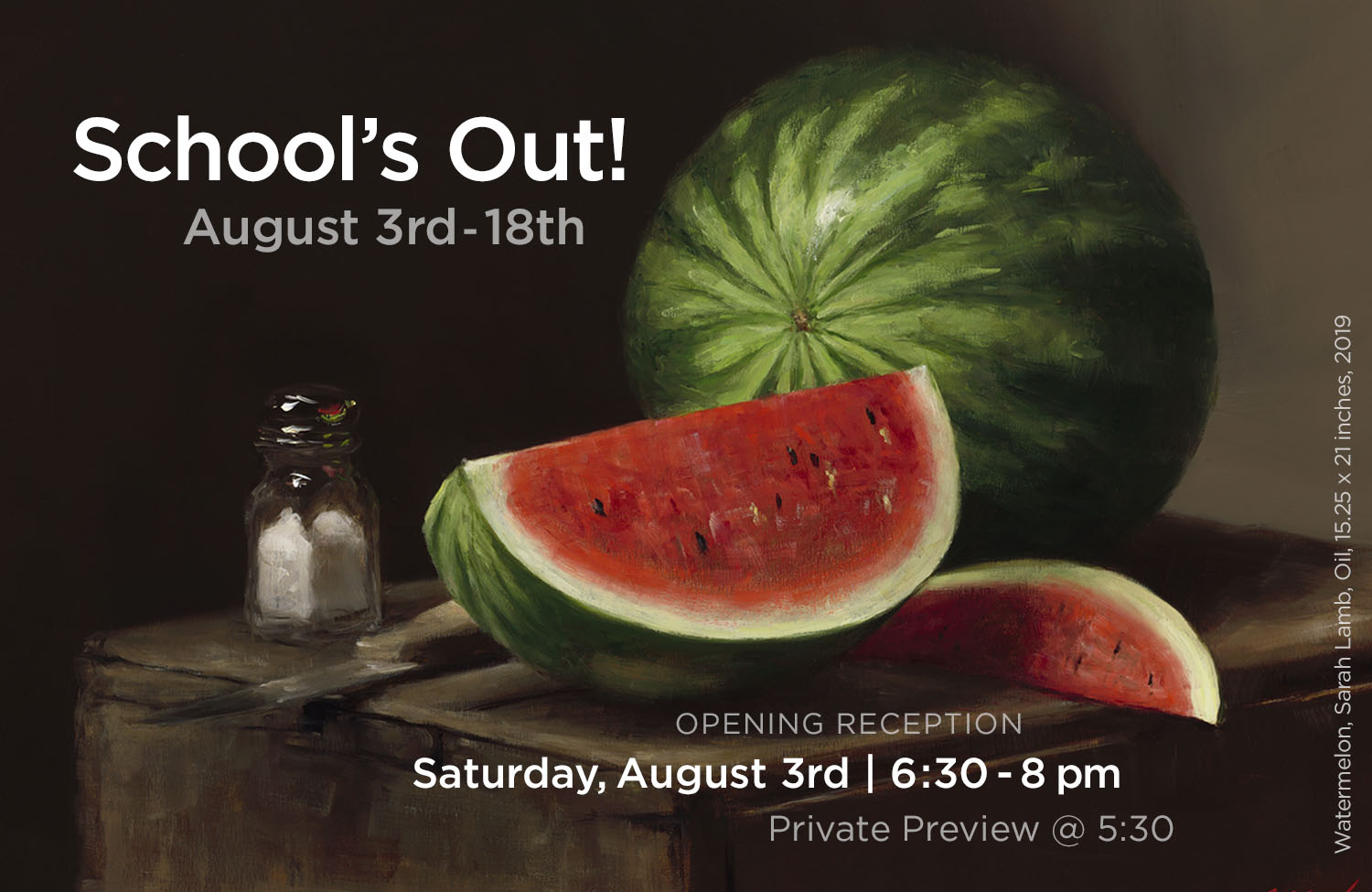 Schools Out!
|
August 3rd - August 18th

Schools Out! is a group exhibition of classically-trained contemporary painters.
Sarah Lamb
Ramiro
Melissa Franklin Sanchez
Anthony Ackrill
Rachel Personett
Tim McGuire
Tina Orsolic Dalessio
Tony Curanaj
Chad Fisher
The Grenning Gallery is pleased to announce School's Out! A group show of classically trained painters who have studied for years to achieve mastery in their craft. Following years of rigorous training, school is officially out for these artists! Dynamic realist painters, Sarah Lamb, Anthony Ackrill, Ramiro, Melissa Franklin Sanchez and Rachel Personett, will exhibit alongside impressionist painters Tim McGuire and Tina Orsolic Dalessio. We will also feature sculpture from Chad Fisher, having trained for 13 years, he is gaining steam as one of the most sought after classically trained sculptors for public commissions. An invitation-only, champagne reception will take place from 5:30 - 6:30 pm. A public opening reception will follow, from 6:30 - 8:00 pm.
Sarah Lamb (b 1972) shines a spotlight on the simple pleasures in life. However, Lamb's schooling and training, was anything but simple. Lamb graduated from the Brenau Women's College with a BS degree in Studio Art in 1993. In addition to her semester abroad at the Studio Art center International in Florence, Italy, and a summer workshop in Santa Fe, NM with Renowned classical painter Jacob Collins, Lamb studied at The Ecole Albert Defois in the Loire Valley with classical realist artist, Ted Seth Jacobs. In her latest works, Lamb celebrates the sweetness of baked goods and ripe summer fruit. In Salt and Watermelon, the deep red flesh of a watermelon has been exposed, to be enjoyed with a sprinkle of salt. As if starring in its own film noir, the watermelon sits center stage, against a cinematically dark, back drop. The reflective blade of a knife is painted so realistically, that the viewer is practically invited to reach in and slice off a wedge for themselves. In Laduree Macarons and Milk colorful macarons topple over in abundance. The sumptuous display of iconic French macarons is paired with a carafe of milk. Also, among many others, a much-loved tricycle rests proudly in the center of a near life sized composition. A strong sense of nostalgia is created yet again, through the use of dramatic lighting against a dark backdrop.
Another classically trained artist with an affinity for melon , is Anthony Ackrill (b 1958). After working as an art director for an established advertising agency and winning several awards in local and regional art contests, Ackrill enrolled in the Florence Academy of art, at the age of 37. By his second year, this pupil became a teacher. Ackrill began teaching anatomy to his fellow students, as well as drawing and painting. Although he has undergone serious training, his wry sense of humor finds a way onto the canvas. In July, we see an ample bodied beauty rests atop a larger than life watermelon. The figure recalls the elegant and classical forms found in Grecian sculpture. Her skin appears to be as smooth as marble.
An Ackrill still life with tomatoes can be credited with the start of the Grenning Gallery, having graced the cover of my first ever invite in 1997...and we are very pleased to report that there is an updated version called "Anvil" where he juxtaposes the soft ripeness of his tomatoes with the hard metal of an anvil, and a hammer, the implied threat of getting squashed, is sitting quietly in the background. Mounted on a simple board, with no frame, Ackrill continues to push the envelope thematically AND practically.
Chad Fisher (b 1983) could be voted Most Likely to Succeed, as he is hitting major stride at a mere 36 years old. Fisher is perhaps one of the most technically knowledgeable sculptors of this generation, having studied at numerous classical ateliers (Florence Academy, Studio Incaminatti, New York Academy, Schylkill Academy, and Pennsilvania Academy of Fine Arts) as well as apprenticing in sculptors studio's including, Gary Weisman, Stephen Perkins, and Stuart Mark Feldman. Fisher's technical training combined with his talent, makes him an almost miraculous sculptor to watch in action, as he gets an accurate likeness in record speed. (http://grenninggallery.com/artistdetail-197.php ). Sprinkling in passion and a strong work ethic, it is no surprise that Fisher has become one of the leading classical sculptors working on major public commissions. Perhaps most famous for his Hall of Heroes or Legends Walk at the Philly's 76ers training center in Camden, NJ. Fisher has become the sculptor of choice to several major sports organizations, including the Philadelphia 76ers, Flyers, and this Fall, there will be a big unveiling of his latest major project in Chicago. We are lucky to have a few smaller personal works (Gluttony, Avarice and Sloth) by Fisher from his Seven Deadly Sins series. We also have a striking torso Effects of Sound, in that it has an updated silver finish and it is mounted on a red plinth.
Melissa Franklin Sanchez (b 1984) is an East End resident every summer, but also a graduate and instructor now at the Florence Academy of Art in Florence Italy. Franklin studied dance and acting in the UK before she moved to Florence. Painting on copper, which was a 17th century innovation has allowed her also to pursue her classical orientation, but with an updated look. Her self-portrait "Golden" is an impressive likeness but, also feels contemporary and fresh because she allows much of the copper to show through Franklin has always been a natural colorist and this year her works have evolved as she is showing several very subtle moonscapes that recall the influence J.M. Whistler.
Rachel Personett (b 1991) is perhaps our newest graduate of the academies having studied at FAA and the Angel Academy of Art. She is currently studying and painting in Russia, but we were lucky enough to get several of her latest and largest florals. Her work has wowed us and now several other galleries around the country, and she is only 27 years old! School is definitely out for Personett, as her career is well underway, with tailwinds.
Most improved award goes to Tina Orsolic Dalessio (b1983). Orsolic Dalessio left her career as a professor of EU Law in Zagreb to join her husband renowned plein air painter Marc Dalessio in Italy several years ago. There, she enrolled in the painting program at the Florence Academy of art, and we were able to witness her speedy progress from attentive amateur to a professional painter in these last three years. This year almost every painting she has given us has sold, and in the show, we offer a series of small local paintings, as well as a beautiful self-portrait.
Tim McGuire (b 1971) classically trained at FAA, and also a regular workshop teacher has recently moved to Nova Scotia to paint full time. McGuire was a perennial student and teacher before he decided 8 years ago to focus fully on painting for a professional career. He returns to the Grenning Gallery with several interesting works which demonstrate his emerging stylized twist on plein air painting. Rather than trying to copy nature with supreme accuracy, we see McGuire taking his observations of nature as a starting off point - and through accentuating the lines and puffing up certain edges, we get a Van Gogh like semblance.
Angel Ramiro Sanchez has been busy working on a painting mosaics commission for a Church in Williamsburg VA. He will be giving a talk in the gallery on Sunday August 4th about his process.
---
= SOLD
---