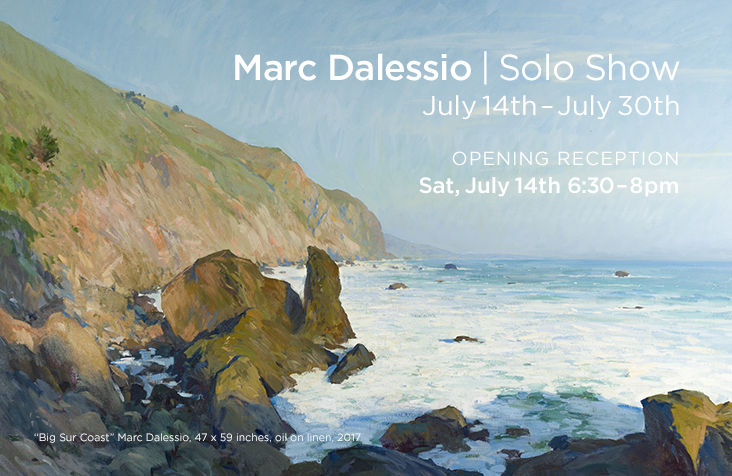 Marc Dalessio | Solo Show
|
July 14th - July 30th | 2018
The Grenning Galleryis pleased to invite the public to an opening reception on Saturday,July 14th, 2018 from 6:30pm to 8:00pm. The show will hang until Monday, July 30th.
Dalessio, one of the world's leading plein air painters has returned to the East End this year to paint locally as he has done many years since he first came in 1999. We are also showing a very select group of major paintings from his year of painting around the globe. Although he is based mostly in Florence, Dalessio paints in Ireland, California, Cape Cod, Maine. Wales, Austria...basically - wherever the beauty takes him. As an environmentalist, he is following his true inspiration.
Dalessio's first love, the California coast, is found in the anchor painting "Big Sur". This grand and sweeping view is a feat of contemporary painting, with its rich foreground in shadow, and subtle and true color of the distant water and sky. The articulated observations of the rocky coast are both intriguing and bold at the same time. It's a powerful painting to stand in front of - which is exactly how the great landscape paintings of the late 19thcentury were able to convince our leaders to set aside huge swaths of land. It was the Hudson River Valley paintings of the west that inspired the creation of our federal and state parks. Artists, and their observations, are the true leaders, which is why one needs to vote with one's dollars to encourage the artist to keep painting these spectacular natural places.
Shifting to the local paintings, we are very pleased that Dalessio was able to spend several weeks painting local scenes - ranging from Main Street Sag Harbor, to Indian Wells Beach. One especially interesting painting, "East Hampton from the Jitney Stop" recalls the work of another famous American painter from over a 100 years ago - Childe Hassam. His delight in painting, drawing and etching the great elms lining the streets of East Hampton are well known to the followers of the great American impressionist. Here, Dalessio has been able to capture the same view with convincing accuracy and a brightness and lightness that could only be from the 21stcentury. Only after 25 years of painting full time, could an artist come to town and paint one or two local landscapes a day during the weeks leading up to his show, and deliver such an amazing collection of works.
Finally, we are delighted to be showing several rare still life paintings from Dalessio's studio. The Roses and Jasmine, is original and gorgeous for the rich dark background and luscious painterly roses, in one of the more original compositions of such a traditional subject in a long time. which the show will hang until July 30th. Check the Grenning Gallery website at http://grenninggallery.com/eventdetail-60.php to preview his show.
The fact that Dalessio's website and blog found at http://www.marcdalessio.com, which is devoted to plein air painting has become an invaluable resource to painters around the world- might seem a touch ironic since Dalessio is one of the most dedicated traditionalist when it comes to craft. He uses this digital platform to espouse the centuries-old traditions of oil painting. Motivated by his own experiences as a college art student with an unquenchable desire for access to the images, painters, and history and knowledge of en plein airand frustrated by the limitations of availability, creating the digital resource is a natural evolution and organic expression of the artist's generosity of spirit, talent, and emotion--readily on display in the epic works of this show.
---
= SOLD
---